We are independently owned and the opinions are ours. The individual reviews at the bottom are from customers and are monitored for legitimacy. We may earn money from affiliate links.
Filenow Review Summary
Overall, Filenow is a legit and trusted site for business services.
We can see that Filenow currently has an A- rating on BBB.org, and is an accredited business with them since 2019.
When you compare Filenow to others, like LegalZoom, Incfile, and BizFilings you'll see they are similar, but there are a few key differences that make Filenow stand out, and we'll point those out in this Filenow review.
We noticed 2 good things that stood out right away, which is that Filenow offers a free EIN/Tax ID ($75 value), and 1-year registered agent ($119 value) when you file a business entity with them.

Filenow Hidden Fees (none)
10
Filenow Hidden Fees (none)
10
Add your review
|
Read reviews and comments
How's Filenow Compare to Others?
When comparing Filenow with others on the web, it was easy to see that Filenow is a better choice offering more for less money.
With that said, the website hasn't been around too long, since starting in 2018, but there are many positives overall that make Filenow stand out among others (see comparison below).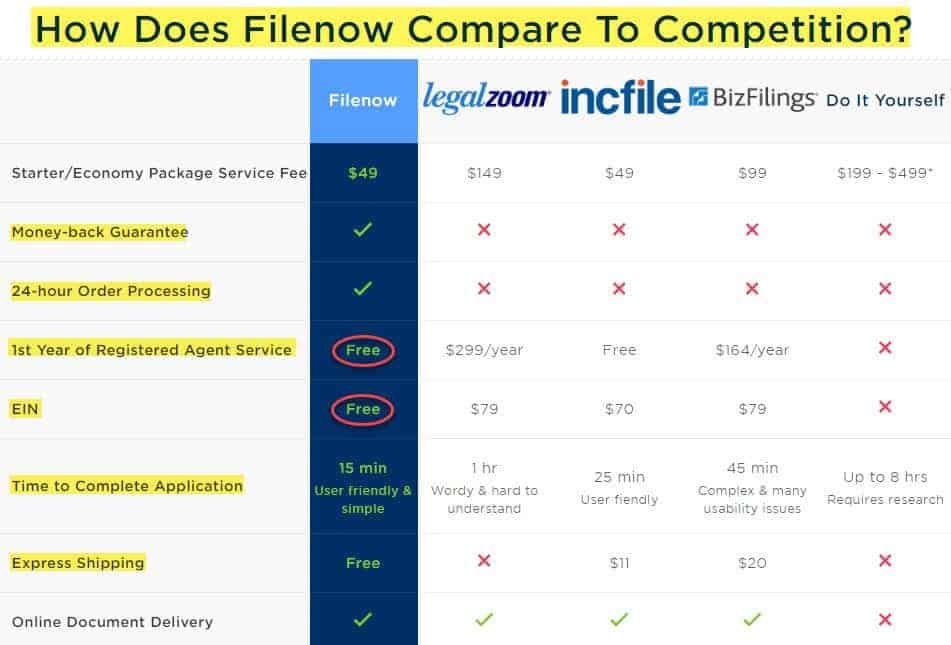 When comparing Filenow vs LegalZoom.com there are several differences showing that Filenow has:
money-back guarantee
24-hour order processing
1st year of registered agent service
free EIN/Tax ID
fast time to complete application
free express shipping
You can see when comparing Filenow vs other similar sites, like Incfile vs Filenow, we found Incfile reviews to be legit as well and seems to have a high rating from customers.
Money-Back Guarantee (error-free service)
When you use Filenow for business services they guarantee all your information and documents filed will be 100% done correctly with expert-reviewed processing for error-free filing, or your money back.
If for any reason there was an error (very rare), and the state you filed in denies the application Filenow will give you 100% refund on the service fee.
Free EIN/Tax ID Number (worth $75)
Filenow offers a free EIN/Tax ID ($74 value) when you register

your company with them online.

They also, offer a free registered agent for the 1st year ($119 value) when you file with just their Starter Package (currently at $49 + state fee), while other competitors will charge you extra for this.

It's a good idea to get an EIN or Tax ID, which is a number you'll get that's unique to your company. It's important to have because it separates your business and personal assets. For example, if someone came after your business and tried to sue your company then having an EIN/Tax ID protects you and your personal assets (house, car, etc).
Support & Help w/ Questions
Filenow offers expert chat support, as well as unlimited phone and email support that's live 24/7.
Help Me Choose Business Entity
One great thing found on Filenow is they offer a tool (as shown below) that will help you figure out what's best for you in choosing a business entity.