Independently owned. Opinions are ours. Reviews are from legit customers. We may earn money from affiliate links to support and feed our families.
HottPerfume store who sells name brand perfumes seems to be a legit and safe site to buy from. This is from our experience and many positive HottPerfume reviews you can read below.

You can return any unopened item within 14 days of receiving your order from HottPerfume, but you will be charged a 20% restocking fee.

Now that you have learned all about them in this HottPerfume reviews, it is best that you give HottPerfume.com a visit to see what they have to offer. There are numerous brands being offered there at this time that are trending and popular for customers.
Is HottPerfume a Legit Site?
10
HottPerfume Shipping Delivery
7.5
HottPerfume Support & Help
7
Is HottPerfume a Legit Site?
9.8
HottPerfume Shipping Delivery
9.8
HottPerfume Support & Help
9.8
Add your review
|
Read reviews and comments
Pros about HottPerfume Reviews
HottPerfume store seems to carry just about any perfume product that you are going to need.
The brands that are made available at HottPefume seem to be legit and authentic quality perfume.
Some of their top perfumes include Beyonce and many popular brands today including; AZZARO, Bob Mackie, Aquolina, ARAMIS, FERRARI, GUCCI and many more.
Men and women are sure to find brand name perfumes in 2021.
You can also get varying gift certificates that you can give to your loved ones right now.
Another thing we liked, was HottPerfume.com is offering 10% off (code: M2021), which you can enter on the checkout order page.
Continue to read the Hott Perfume reviews below from more customers below to learn more.
Top Name Perfume Brands
Secure Payment System
Gift Certificates Available
Regular Deals up to 70% off HottPerfume
Top 3 Selling Products Now on HottPerfume Below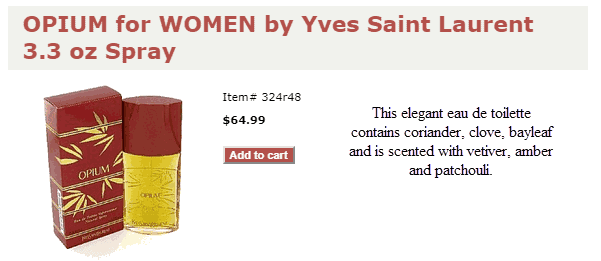 Cons about HottPerfume Reviews"
A couple drawbacks mentioned in this HottPerfume review is that the company does charge for shipping and offers limited payment options.
Here were the shipping options (shipped to Salem, Oregon) when ordering a 3.4oz Amouge Memoir Perfume for $149.99
First Class was $5.50
Priority Mail $5.99
Express Mail $22.99
Shipping to any countries besides US and Canada will probably be charged more than the above-quoted prices.
You will also, want to keep this advice in mind before you make a decision to purchase from the HottPerfume.com.
Prices on some Perfume Products are Pricey
Shipping Fees at Checkout
Only Accepts PayPal
The only payments options offered are PayPal and PayPal Credit, as you can see below.
keywords: HottPerfume.com reviews 2021, is HottPerfume legit, is HottPerfume a trusted site, is HottPerfume reliable, is HottPerfume good, is HottPerfume safe?, is HottPerfume a good site, is HottPerfume legitimate, is HottPerfume trustworthy, is HottPerfume legit perfume store website?, HottPerfume reviews 2021


HottPerfume Reviews
Save 10% off HottPerfume.com