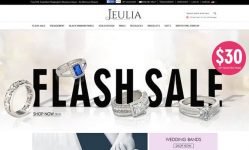 Independently owned. Opinions are ours. Reviews are from legit customers. We may earn money from affiliate links to support and feed our families.
Car and Truck Remotes Review
Overall, Jeulia website is a legit and safe website to find jewelry at a fraction of the price of other jewelers.
You won't find gold rings worth thousands of dollars, but you will find fashionable rings made of other precious metals, and gems.
The thing about Jeulia is that they don't use the most expensive precious metals and gems. Rather, they focus on appearance and longevity of the jewelry as well as the price. This allows Jeulia to create much cheaper, yet still valuable jewelry that will look good.
Also, make sure that you check Jeulia's FAQ's first prior to ordering just to make your experience is good.
Add your review
|
Read reviews and comments
Pros: Jeulia Review
Jeulia is a company that specializes in designer jewelry at very reasonable prices.
The first thing I noticed is that they offer free shipping worldwide on all of their products with no minimum purchase.
They also have a wide selection of birthstone jewelry, diamond rings, engagement rings, necklaces, bracelets, and jewelry for other special occasions.
Jeulia offers a 30-day money back guarantee and a 1-year limited warranty on all of their products.
After your purchase, you can track your orders, and be assured that information is safe with secure checkout.
30 Day Guarantee

1 Year Limited Warranty

Free Shipping on All Orders

Track Your Order

International Shipping Available
Cons: Jeulia Review
There were a few drawbacks to Jeulia. If you remove the tag from your jewelry it can be difficult or impossible to receive a refund if you decide to return it.
The website had several grammatical and spelling errors.
You would think that a company with over 370,000 likes and global recognition could spend a few more dollars to clean up the website.
Aside from this, they offer great products at good prices.
Removing Tag From Jewelry Voids Ability to Return

Poor Grammar Throughout the Website
Juelia Review Videos
Jeulia Ring Review - Princess Cut Wedding Band
Non biased review on a Jeulia ring. I recently ordered and received a ring from Jeulia.com. This company is in China and does a lot of advertising on Facebook.
Honest Jeulia Rings Review | MO EXPLORES
Hello loves! Today I'm giving you my 100% honest review on the two-toned man-made sapphire wedding rings I got from Jeulia. Jeulia sent me one of their wedding ring sets to review, however...
Jeulia Ring Review
I just want to start off by thanking Jeulia for giving me this opportunity! Also, before you start to get mad about this video, I do a lot of research before accepting any offer. That way I...
Jeulia Ring Unboxing | REVIEW
I love my new sapphire ring which sparkles like a diamond (and is less than $200)! Jeulia is an awesome affordable brand that sells lab-made gem jewelry. I want everyone to know about it and...
keywords: Jeulia jewelry reviews 2018, is Jeulia good quality, is Jeulia safe, is Jeulia legit, is Jeulia a safe website, is Jeulia trustworthy, is Jeulia real, is Jeulia a good site, is Jeulia.com a legit website, is Jeulia reliable, reviews for Jeulia, Jeulia reviews 2018