SA Fishing Reviews 2020
Save an extra 80% off SAFishing
Independently owned. Opinions are ours. Reviews are from legit customers. We may earn money from affiliate links to support and feed our families.
SA Company Review Summary
Overall, our experience was legit and safe buying from SA Fishing Company who sells outdoor apparel and face shields, but there some negative SA Company reviews saying the materiel on some face shields is lower quality.
The SA Fishing Company currently had a C+ rating, but as of May 20, 2020 their rating is an F score with the BBB.org, but it sems they have an 89% positive customer experience with their overall sales.
The majority of their face shield masks seem to be legit and reliable, and for the prices, which are $19.99, it's a good price compared to some.
Their lifetime warranty on their multi-use face shields is a great addition to a product that has some pretty cool design features.
Also, make sure you check SA Co.'s Top FAQ's first prior to ordering just to make your experience is good.
Is SA Fishing Legit & Safe?
8
SA Fishing Shipping Delivery
6.5
SA Fishing Help & Support
7.5
Is SA Fishing Legit & Safe?
6.4
SA Fishing Shipping Delivery
5.9
SA Fishing Help & Support
5.7
Add your review
|
Read reviews and comments
Pros: SA Fishing Review
SA Fishing Company is most known for their multi-use face shields, providing thicker versions for the winter months and thinner ones for other times of the year.
They also, provide a variety of apparel selections for both men and women, like straw hats to protect yourself from the harmful sun, if you're out to long.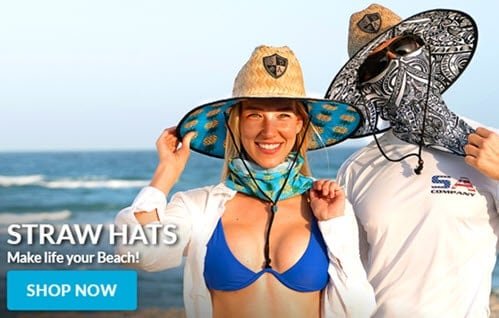 SA Co. has established a large following on Facebook with over 1.9 million fans, and on Instagram with over 1.1 million.
On their social media, they often run contests and giveaways to a lucky follower.
30 Day Return or Exchange Policy (14 Days For Sale Items)
1-4 Business Days Domestic Shipping
Track Your Shipping Available
You can return an item to SA Fishing Company within 30 days of your order by following these steps:
To return an item, you'll first need to
Cons: SA Company Review

First, you can see SA Fishing Company, as of March 2020, has a C+ rating with the BBB (Better Business Bureau).
Most negative SA Fishing reviews and complaints are about:
Delayed international shipping (avg. 7-10 days or more)
Material is lower quality on some face mask shields
Difficulties with customer service being slow

Return shipping fees (you must pay for return shipping)
One small drawback with SAFishing.com is that the customer is responsible for return shipping costs if you have to return an item.
SA Fishing Review Videos
Update + SA Fishing Face Shield Unboxing
Hey, guys! Just a quick update and unboxing video of a few face shields Travis picked up from SAFishing.com. Check them out and let us know what you think of ...
SA Fishing Fleece and Standard Face Shield Review
After using our original Face Shields for the past year, we get a new set including SA Fishing's new Fleece Face Shields. 5 new standard face shields and 3 new ...
SA Fishing Face Shield Review
In this video Ben reviews some SA fishing face shields he got in the mail. Let us know what you think! Make sure you use those promo codes! Masks reviewed: ...
SA Fishing gear review
Tubular face masks from www.safishing.com, standard and fleece face masks. Super product at a decent price.
keywords: sa fishing reviews, is sa fishing legit, sa company face shield reviews, is safishing safe, sa company reviews, is sa company legit, sa fishing face shield review,  safishing.com reviews