Select CBD Review | Select CBD Oil Reviews Drops & Tinctures
Save 20% off Select CBD Oil

Select CBD Review | Select CBD Oil Reviews Drops & Tinctures
Save 20% off Select CBD Oil
Try and review Select CBD Oil Drops and Tinctures including lavender drops, lemon ginger drops, peppermint drops, and unflavored drops all containting 1,000mg.
We are independently owned and the opinions are ours. The individual reviews at the bottom are from customers and are monitored for legitimacy. We may earn money from affiliate links.
Watch these short videos as I test and review Select CBD Oil Tincture Drops and

review Select CBD Vape Pens

.
Learn the benefits, flavors, ingredients and how to use Select CBD Oil.
Select CBD Oil Review Tincture Drops
All Select CBD Drops are sourced and grown in live organic soil by trusted local farmers and extracted using cutting-edge tech into potent, resinous oil.

Select Oils Quality Control Team hand-inspects and reviews each Select CBD Oil Drops for cracks, leaks, and tanks that were not completely filled. During this Quality Control review process, Select Oil Tincture Drops are locked away and cured for 24 hours before they head into dispensaries for sale.
Is Select CBD Oil Legit & Safe?
10
Is Select CBD Oil Reliable?
10
Select CBD Oil Shipping Cost (free in US)
9
Select CBD Oil Shipping Delivery
8.5
Select CBD Oil Help & Support (email only)
9.5
Is Select CBD Oil Legit & Safe?
7.9
Is Select CBD Oil Reliable?
7.9
Select CBD Oil Shipping Cost (free in US)
8.7
Select CBD Oil Shipping Delivery
6.2
Select CBD Oil Help & Support (email only)
6.1
PROS
Online Ordering Available for Select CBD Oil Tinctures
Winner of the 2017 Dope Industry Award
Best Concentrate Company
Consistent Quality
Organically Grown
CONS
Only Available in the US as of now
Must be at least 18 Years of Age to Buy
No Shipping Allowed Currently to PO Boxes
Add your review
|
Read reviews and comments

Select CBD Review (personally tested and liked)
I personally use all 3 of the most popular flavored Select CBD Tincture Drops. 
Each one is a tincture liquid form in a 30ml bottle that provides the perfect dose of CBD and it's many benefits (continue reading) each time with the 1ml dropper.
Below we have a full Select CBD drops review with the ingredients and what's in them, to the dosage size and their effect.
How Do You Take Select CBD Oil Tincture Drops?
My Daily Routine & Review
1/2 ml – 1ml dropper 3 times day (that's me at 160lbs, so consider your weight and tolerance, so you may start with a lower dosage and build up)
peppermint CBD drops in the morning upon waking up or after breakfast
lemon-ginger CBD drops in the afternoon/early evening 12-3pm
lavender CBD drops in the evening 1-2 hrs before bed
My Effect & Experience
First, I have ADD (attention deficit disorder), so this is the main reason I take these and has helped a lot.
I have a feeling of calmness, but still alert and able to focus on my work during the day.
I feel it helps enhance my mood, immune system, and memory when working or socializing with others.
I feel it helps with the quality of my sleep, and the lavender CBD drop makes me relaxed and calm before bed.
I feel a little less pain in my back and knee joints.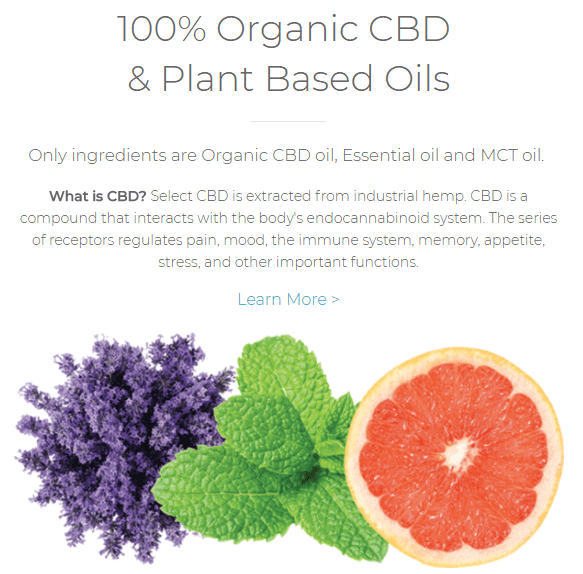 Each Select Drop tincture contains hemp-derived CBD and other plant extracts that work in harmony to enhance your relaxation and healing.
These new Select CBD tincture drops contain no THC, which means you get the benefits of the hemp plant, but you won't notice any psychoactive effects or feel "high." Just 100% pure CBD oil with MCT oil and essential oil blends (more on this below).
Each Select CBD drop bottle is: 
100% organic plant-based CBD oil and essential oil blends.
1000 mg concentration of CBD per 30mL bottle (33.3 mg per serving or 1ml dropper).
30 servings total per bottle (if you use the full serving).

it's recommended to start with a lower dose and work your way up to build a tolerance.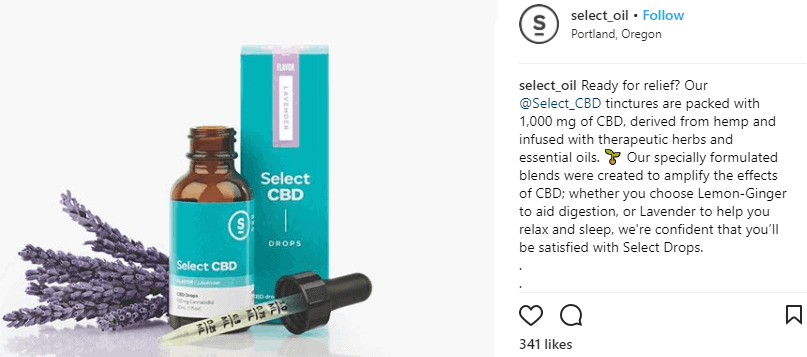 Review of Cura Wellness and its Brands
When reviewing Cura CS and it's flagship brands Select Oil and Select CBD we can see this company prides itself on producing excellent vape pens, new Select CBD Tincture Drops (free shipping included) that are leading the way in this industry.
Cura and Select's business practices and quality control are unlike the rest;
partnering with local organic hemp plant farms.
each farm and product is lab tested to meet the industries high standards.

every product is carefully hand tested and goes through a 7 step quality control check (see below for more on this).

proven and experienced employees and lab workers, who are licensed professionals.

top quality equipment and modern technology is used in the process.

delivered to your front door (CBD products only) or local dispensary.
Among these Select Oil products are their Select CBD vape pen cartridges provides the option of choosing from a range of interesting flavors to leave a pleasurable experience constituting:
an American made kanthal steel (high quality)
pure unbleached Japanese cotton (others may us standard cotton wicks, which isn't the best and can read below)
This high standard for a quality product provides users to be able to take a quick draw from their Select CBD pens and not get that burned taste like a standard cotton wick would.
Select oil legitimately tests and regulates every product, using chemist and other professionals, to meet industry standards and they have built a reputation that has earned an award of: 
Best Concentrate Company at the 2020 Dope Industry Awards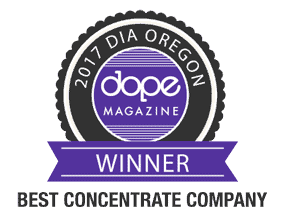 Let's Review Select CBD Drops Flavors & Effects (personally tested)
What's in these Select CBD Oil Drops?
Lavender (Relax) Select CBD Oil Review – Tincture Drops
Supports relaxation with organic high-quality lavender essential oil extract added for a calming, soothing, and sedative effects on your nervous system with CBD.
Ingredients: Fractionated Coconut Oil, CBD, Passion Flower, Concentrate, Chamomile, Lavender extract, Stevia extract
Lemon-Ginger (Energy) Select CBD Oil Review – Tincture Drops
Contains an infusion of CBD, along with the anti-inflammatory power of turmeric, the antioxidant benefits of ginger, and the bright, energizing properties of lemon.

Ingredients: Fractionated Coconut Oil, CBD, Turmeric, Ginger, Lemon extract, Steve extract
Peppermint (Focus) Select CDB Oil Review – Tincture Drops
Peppermint is a natural energy booster and the scent stimulates the hippocampus area of the brain for increased mental clarity and improved memory. The flavor and smell tell your brain it's time to focus.

Ingredients: Fractionated Coconut Oil, CBD, Ashwangha, Rhodiola, Peppermint extract, Stevia extract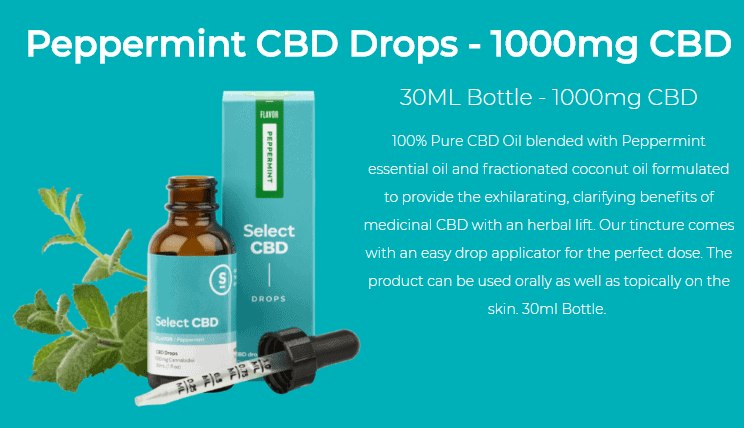 Unflavored CBD Drops Review – Tincture Drops
This is an unflavored 100% pure organic CBD oil and 100% pure fractionated coconut oil, which is a high-fat content carrier that stays liquidy and doesn't solidify when refrigerated. All 3 other flavors have these same ingredients, but with added essential oil blends.
Notes on Fractionated Coconut Oil (used in the tincture drops)
Fractionated coconut oil used in tinctures is derived from regular coconut oil consisting of medium chain fatty acids caprylic acids C8 and C10 that eases metabolism.

The coconut oil is a stable pleasing carrier of the cannabinoids that does not solidify when refrigerated.

By removing lauric acid (making it fractionated oil) is how it's kept in its liquid state.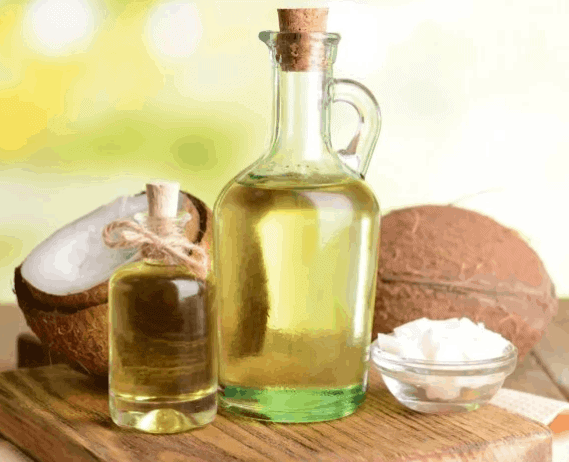 How's the Quality of Select Oil and CBD Products?
Select CBD oil pens are 100% organic hemp plant distillate and terpenes, a natural plant extract. Hence, avoiding formaldehyde, which is a chemical found in carbonyls or harmful agent, and is commonly found in other products depending on the thinning agent or carrier used. 
The taste is preserved by maintaining the temperature during use and the tamper-resistant pen ensures that each Select CBD pen is kept flowing.
Its design rids you of having to deal with burnt coils and silica dispensing an accurate dosage of cannabinoids and terpenes through the organic Japanese cotton wick and ceramic core.
A quality control team handles inspection of each cartridge for errors like cracks, leaks and tanks that not properly filled. During this process, the cartridges cured for 24 hours before they are sold online or put into dispensaries to minimize mechanical failures and fully saturate the wick.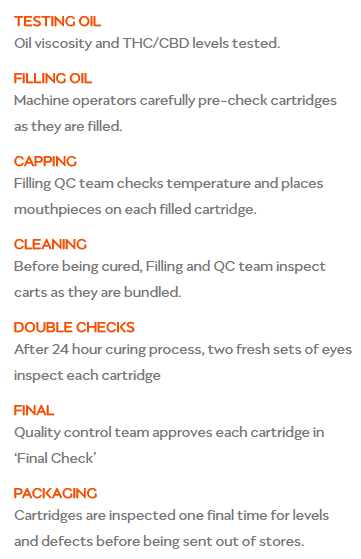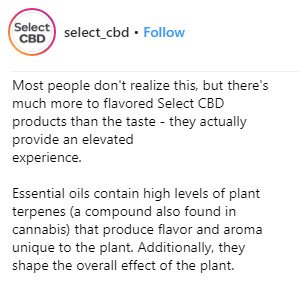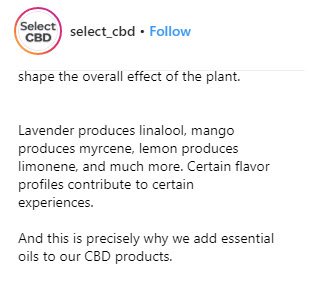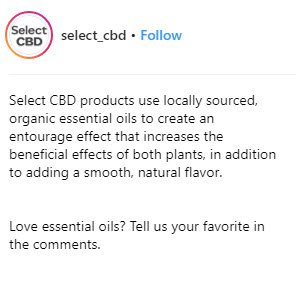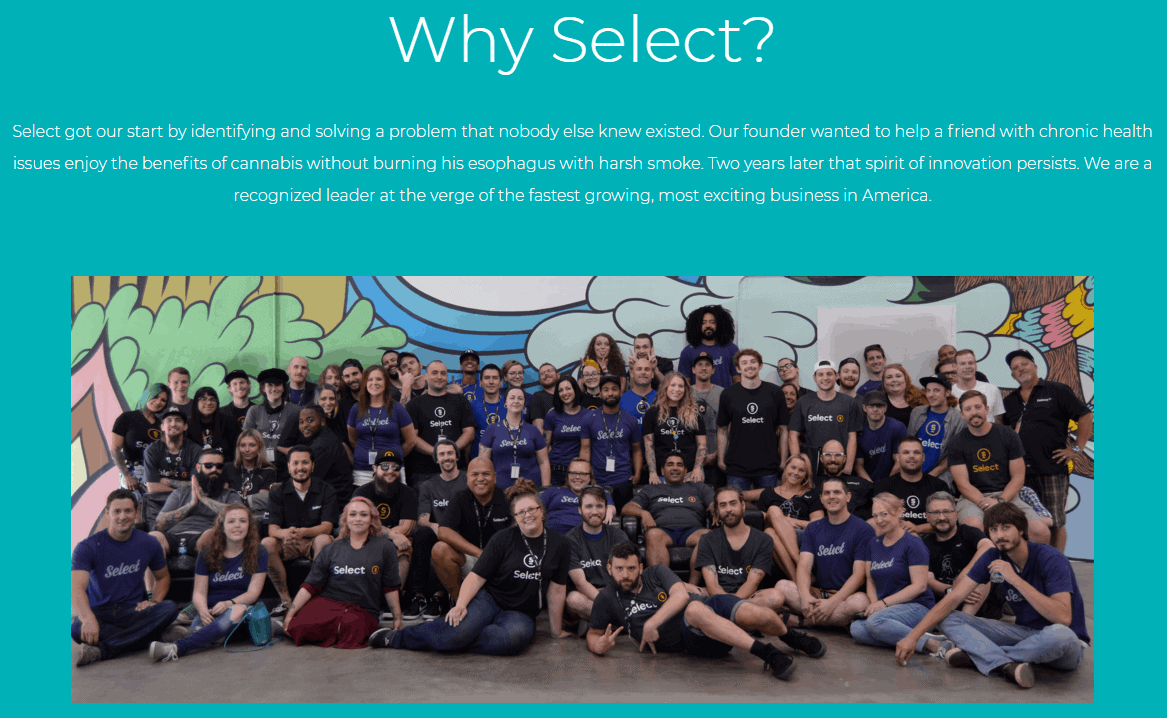 Cura is an American brand on a mission to be the leader of global and America's legal CBD, a drive which has earned them an enviable reputation for its production of Select Oil and Select CBD.
Top FAQ's about Select CBD Oil Tincture Drops
What is CBD?
It is a compound that reacts with the body system receptors to regulate pain, moods, immune system, memory, stress response and other functions. Select CBD is extracted from industrial hemp.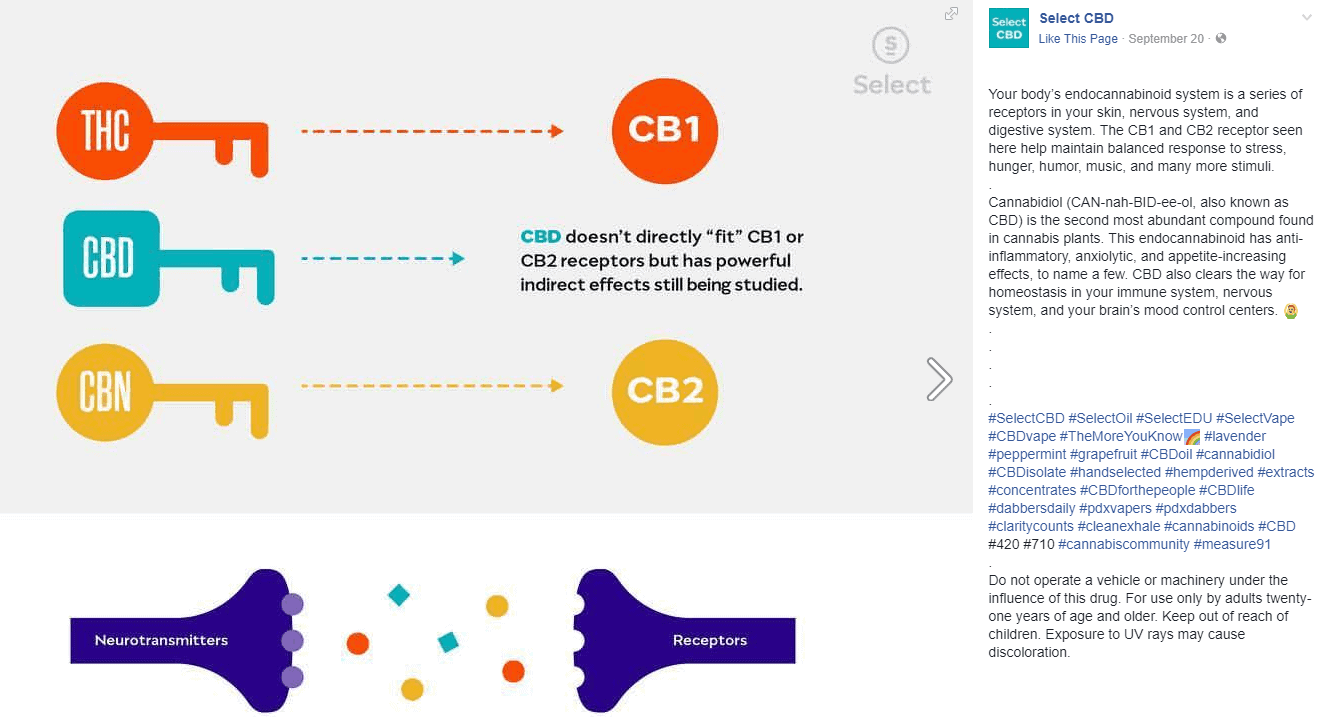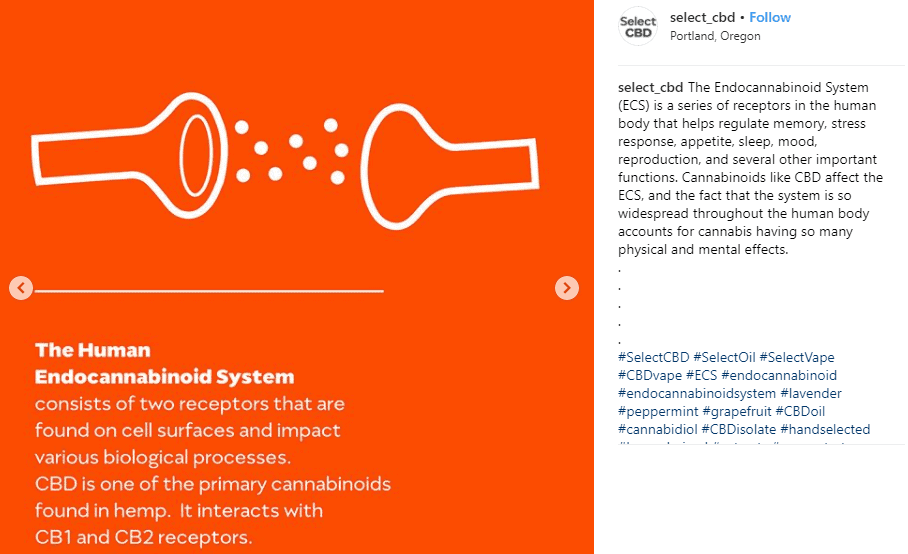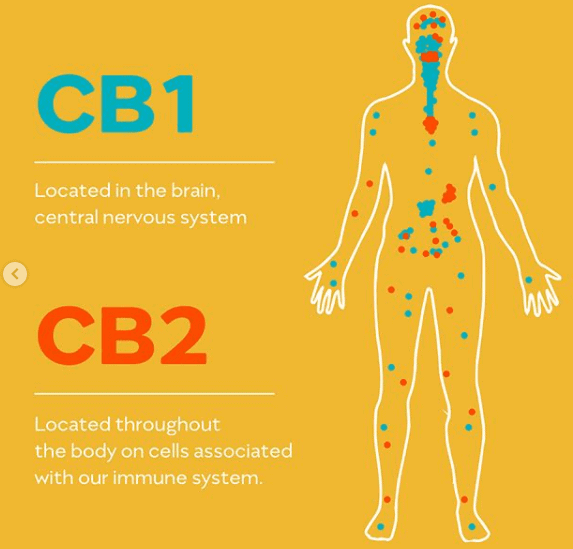 Does CBD get me high?
No. There is absolutely 0% THC in Select CBD oil drops and pens, which allows people to get stress relief without that psychoactive or paranoia feeling that THC can do.
Would there be trouble with a drug test during its use?
Drug tests check for THC content, so if CBD alone is used there is a low probability (we don't know what's already in your system) to no chance that the test would be positive. However, with the risk of using all hemp products doctor's or employer's consultation is advised. With this said, if you are still concerned you can test yourself for $10.50 to make sure your drug free, or try finding a test kit being sold at a near supermarket store, like The Dollar Tree or Walmart.
Why choose CBD oil vape pens?

Interesting Facts about Cura CS LLC
Douglas AP Hamilton, a business investor,  has passed on several investment opportunities from companies due to their poor execution and strategies that were short-term.
But the uniqueness of Cura and it's flagship brands SelectOil and SelectCBD is in its strategy, management team, dominant market position and unique IP and product quality were what encouraged him to invest. He could see that Cura's Wellness business model and it's brands and products had was just different in his 35 years of private equity investing. He also predicted that Cura would most likely be the first real billion-dollar company in this industry.
I personally believe their success and growth has a lot do with Cura's Co-Founder and President, Cameron Forni:
He's one of the leaders in this industry on product innovation and design, supply chain management, and strategic sales.
He founded the brand "Select Oil" and it's vape pens who are operated and owned by Cura CS LLC
Here's some of Cameron accolades and experience:

worked and trained with Ryan Blair as an apprentice, who's a super smart and successful entrepreneur himself and best selling author of the book:
President of Development at Chalice Farms
CEO of Epic Events NW
Co-Founded Try Eco LLC and raised $1.55 million in capital
Chief Operating Officer at TextNoMore
Graduated with his Bachelor of Science Degree in BA w/ a concentration in finance and entrepreneurship from the University of Oregon.
A third-generation Oregonian (helps to know and love the area you serve and work in, like Cameron)
keywords: yes Select CBD oil drops work well, do select cbd oil tincture drops work? select cbd reviews 2020, select cbd focus review, cura wellness select cbd, select cbd relax review, select cbd drops reviews 2020, select cbd review, is select cbd good, select cbd oil review