Independently owned. Opinions are ours. Reviews are from legit customers. We may earn money from affiliate links to support and feed our families.
Vivid Seats Review Summary
VividSeats is a legit ticket resale site saying on their site, "we have processed more than $1 billion in successful ticket transactions." Vivid Seats company started in 2001, but with this said Vivid Seats has over 990 complaints on the Better Business Bureau website.

Also, VividSeats says all orders are 100% guaranteed, but this doesn't always seem to be true according to the mixed VividSeats reviews and customer complaints below.


Continue reading below to see the main common problems and how to have a good experience.
Is Vivid Seats Legit & Safe?
5
Vivid Seats Ticket Prices
3
Vivid Seats Shipping Cost
3.5
Vivid Seats Shipping Delivery
5
Vivid Seats Help & Support
6.5
Is Vivid Seats Legit & Safe?
1.9
Vivid Seats Ticket Prices
1.6
Vivid Seats Shipping Cost
1
Vivid Seats Shipping Delivery
1.5
Vivid Seats Help & Support
1.2
Add your review
|
Read reviews and comments
The Good
PROS:
100% Buyer Guarantee
Secured & Safe Transactions
Email Confirmation
Track Your Order
Preferred Sellers Status on VividSeats
One good thing is they have preferred sellers that are partners with VividSeats for awhile and some have earned the "Preferred Seller" by providing good standing service and tickets over time.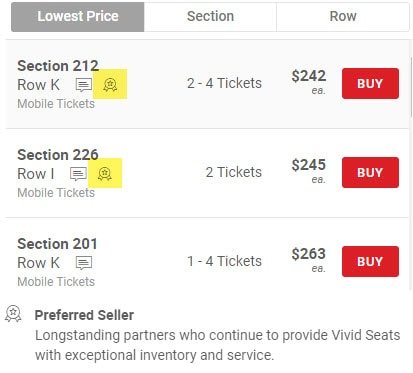 Vivid Values Rewards Program
Aside from the site featuring tickets to just about any upcoming major event, VividSeats has a rewards program that most don't offer.
Vivid Values it's called, makes it possible for those who like to attend live events on a regular basis to save money every time that they do.
A few VividSeats offers include a $50 gift card after buying tickets to 4 different events, free ticket after buying tickets to 7 events, or $30 gift card after buying tickets to 2 events in Vegas.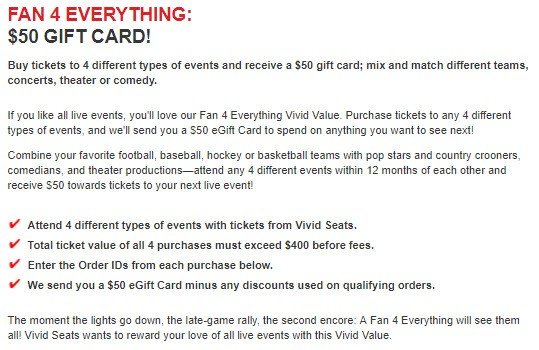 The Not So Good
CONS:
Prices Can Fluctuate
Shipping Delivery Times Can Vary
Hidden Fees (about 25% of subtotal) at Checkout
VividSeats Resale Tickets
VividSeats is a legit ticket resale site that's been an accredited business with the BBB.org since 2003.
According to several customer VividSeats reviews and feedback (see below) it appears VividSeats is not a 100% reliable ticket source.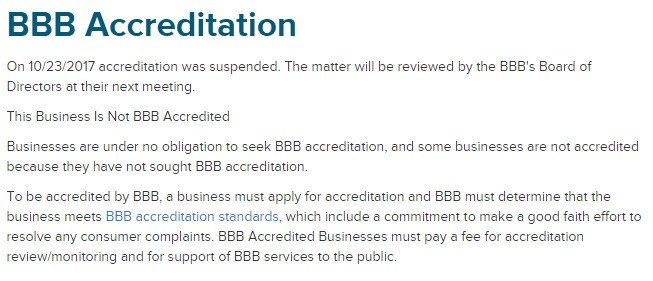 VividSeats Ticket Fees
There are some hidden service fees (up to 25%) which don't announce themselves until the process checkout, which can be frustrating. Many other ticket sites have similar fees that typically range from 10 – 25%.
However, checking them out first will prevent that shock and a little analysis and comparison show that VividSeats service fee is more than most.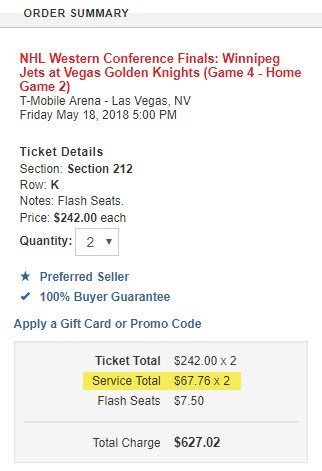 Our Tickety Buying Experience
(2 good options we recommend below)
We've tried many ticket sites on the web, and we found many of these sites to be questionable with shady reviews.
Now with that said, we've tried TicketFly and it's a legit website, but not the most reliable as some reviews say.
From buying tickets ourselves to many hours of research we would recommend these 2 ticket sites:
One site we've tested is SeatGeek (all-in-one ticket search engine store).
SeatGeek seems to be proven secondary ticket source claiming:
largest ticket inventory on the web (w/ VIP packages available)

best value w/ SeatGeek's Deal Score System (see below)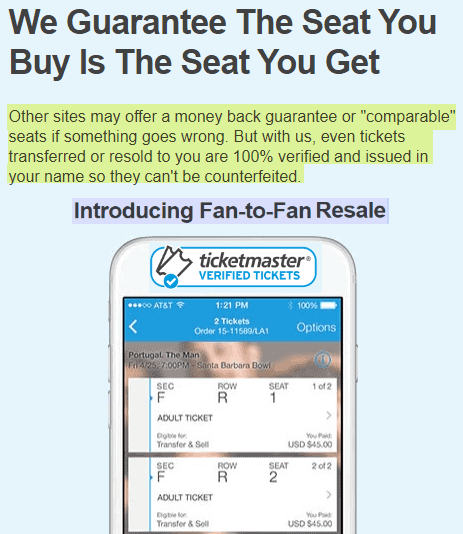 About VividSeats.com
VividSeats.com is a fast-growing marketplace for fans to buy or resell tickets to their favorite sports, concerts, and theater events nationwide.
Founded in 2001, Vivid Seats was created out of a genuine love for attending live events along with a mission of reinventing the ticket purchasing experience of an inefficient industry.
They often have front row seats for everything from the most popular concerts, plays and musicals to sporting events of every kind.  
VividSeats has a popular corporate ticket program for bulk purchases and a trip planner that allows you to easily browse through the upcoming events in any city in the U.S. or Canada.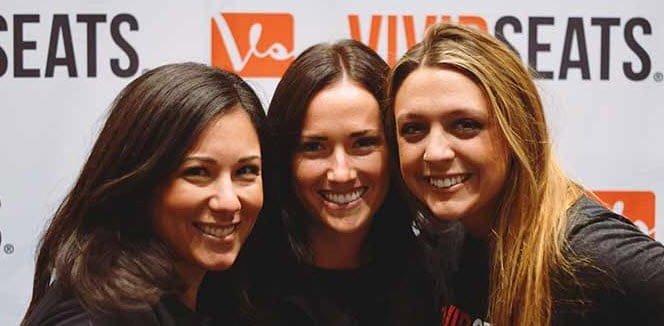 keywords: is vividseats legit, is vivid seats reliable, is vividseats legit, vivid tickets reviews 2020, is vivid seats safe, is vivid seats a good website, is vivid seats trustworthy, vivid seats reviews 2020