Shiekh Shoes Reviews 2020
Save an extra $50 w/ Shiekh.com
Get $50 off Discount Code
Independently owned. Opinions are ours. Reviews are from legit customers. We may earn money from affiliate links to support and feed our families.
Shiekh Shoes Review Summary
Overall, Shiekh who started in 1991 is a legit and safe website with top-brand shoes, clothing, hats and more, that claim to have "the hottest styles offering a 100% price match guarantee."

Shiekh, as of March 2020, has an A+ rating with the BBB.org, but there are a few negative Sheikh reviews and complaints to be aware of that you can see below.

They also, have over 120+ retail stores in 9 states around the country, which you can see below, or you can check the store locator on Shiekh.com.
Is Shiekh Shoes Legit & Safe?
9
Is Shiekh Shoes Reliable?
8
Shiekh Shoes Shipping Cost
8.5
Shiekh Shoes Shipping Delivery
7
Shiekh Shoes Help & Support
7.5
Is Shiekh Shoes Legit & Safe?
9
Is Shiekh Shoes Reliable?
8
Shiekh Shoes Shipping Cost
9
Shiekh Shoes Shipping Delivery
7
Shiekh Shoes Help & Support
8
Add your review
|
Read reviews and comments
Let's Review Shiekh Shoes "Pros"
Many Shiekh shoes reviews stated they liked the following:
Top Brand Shoes w/ 100% Price Match Guarantee
30 Days Full Refund Guarantee (must use return authorization form)
Safe & Secure Ordering Process
Order Tracking Available (sent via email after ordering)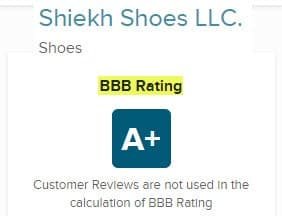 Many of their top-brand shoes are discounted with a 100% price match guarantee if you find the same item at a lower price they give you a refund for the difference within 10 days of ordering.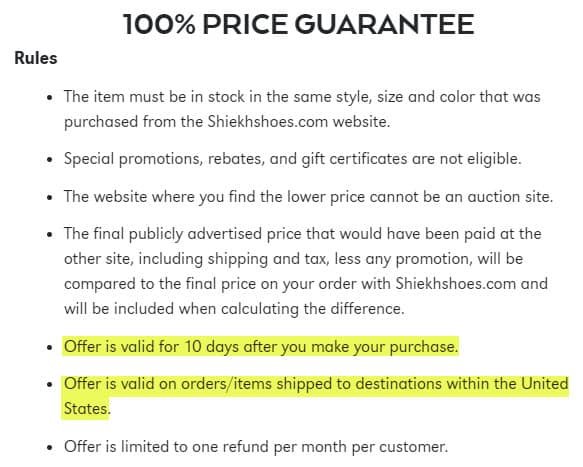 If you do find a lower price elsewhere, after ordering from Shiekh, just make sure you notify them within 10 days of your order.
It looks like this price match guarantee is only good if you live within the United States.
Shiekh also has a list of the most popular selling shoes for men, women, and kids.
They carry brands such as Yeezys, Jordans, Vans, Addidas, Nike, Converse, and more.
When you buy from Shiekh.com they say your order is 100% guaranteed safe and secure by using Secure Sockets Layer (SSL) technology.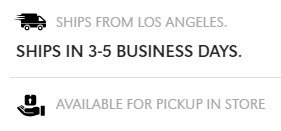 Most orders are shipped within 3-5 business days, but some orders from reviews have taken longer.
Shipping in the US is free and is shipped via UPS ground.
They do have an option where you can pick up your shoes in a nearby Sheikh store.
If you live in the following states you can visit one of over 125 brick and mortar Shiekh stores in:
California (79 stores)
Nevada (11)
Arizona (11)
Michigan (8)
Illinois (6)
Washington (5)
and in New Mexico (2)
Texas (2)
Oregon (1)
You can check the store locator on Shiekh to see if there's a store near you if you're in one of the states above.
Top Videos Shiekh Shoes Reviews
The Shiekh Shoes Review - My Buying Experience
Check out our newest Shiekh Shoes locations in Hollywood, Las Vegas Portland and more! We've enhanced our look to reflect the high caliber brands and ...
SHOW & TELL: SHIEKH MONTHLY ACCESS || #THEBREWAY
instagram : @bre.ish twitter : @___sasquatch_ snapchat : struggle_s - Watch as I review shiekh
SHIEKH SHOES: AIR JORDAN RETRO 6 and 11 REVIEW CHRIS LOOS
SHIEKH SHOE HAUL & THE BEST BACK TO SCHOOL SNEAKER?!!
Follow @Shiekh on instagram/twitter/youtube IVASTEAL is $25 OFF the IVA sneaker and the current promo is 30% off. Coupon code: IVASTEAL ...
IS THAT WEBSITE SELLING REAL OR FAKE AIR JORDANS? (THE TRUTH) - SHIEKH REVIEWS
If you're worried about getting scammed for sneakers watch this video. Thanks for watching If you enjoy my content, subscribe by clicking here ...
Unboxing Shiekh Shoes Subscription | ZanetaLovesYou
Hey my loves *screeeeaaams* Here is part 2 of unboxing my shiekh shoes subscription!!! If you haven't watched part unboxing Queen Bee Jewelry, here's the ...
Let's Review Shiekh Shoes "Cons"
There are a few drawbacks people should know about that we found in some Shiekh shoes reviews.
Complaints of Poor Customer Service
Worn or Used Shoes Cannot Be Returned or Exchanged
Delayed Shipping On Certain Items (some newer shoes)
Shiekh Shoes does offer international shipping to:
Canada
France
Japan
South Korea
United States
As you can see below, shipping is free in the United States, which is great, but not outside the US.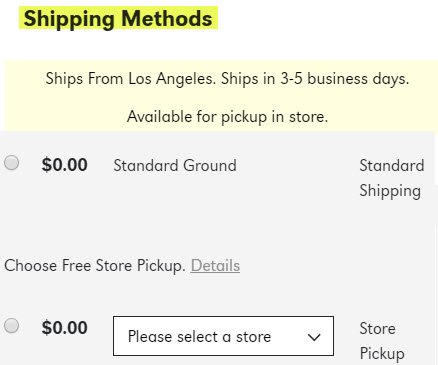 There is a $3 restocking fee in case you return an item to them that is not in their original box.
For Shiekh.com allows returns within 30-days, but make sure to follow their guidelines.
We did find an alternative shoe site to Shiekh and that is TiltedSole.com.
Overall, Tilted Sole reviews seem to be good, and they also, have a A+ BBB rating.
keywords: is Shiekh Shoes safe, is Shiekh Shoes legit, is Shiekh Shoes real, is Shiekh Shoes a good site, is Shiekh Shoes a legit website, is Shiekh Shoes a reliable site, reviews for Shiekh Shoes, Shiekh Shoes reviews 2020